Lil Mama Portaying Lisa "Left Eye" Lopes in VH1 Biopic (Video)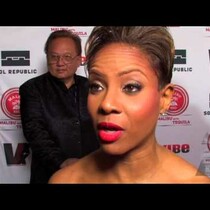 Posted February 10th, 2013 @ 10:50am
MC Lyte spilled the beans on the red carpet for the VIBE Impact Awards, she revealed Lil Mama will be portraying the late Lisa "Left Eye" Lopes in an upcoming biopic on VH1.
"I'm going to put a little bit [of] my concentration and focus on helping to uplift a sister who is talented, smart, witty and just had her chances cut too short and that's Lil Mama," Lyte told HipHollywood.com. "She is a talented young lady so I want to see her do some beautiful things and I don't know if I'm supposed to say, but I will, she just got the role of Left Eye in TLC's new movie so I am so excited for her."
Lyte went on to reveal that she will be getting to the studio with Lil Mama to record a "Hip-Hop Sisters" record, which includes plans for songs with Monie Love, the Lady of Rage and Yo Yo.
In November 2012, TLC's remaining members Tionne "T-Boz" Watkins and Rozonda "Chilli" Thomas revealed that the group was working on a new album and auditioning actors to portray them in the forthcoming biopic.
Check out the video:
[SOURCE]